The Great People, Great Falls series features Great Falls community members who are doing cool things under the Big Sky.
Dr. Tiffany Hensley-McBain is what we call a Great Falls boomerang. She grew up in the area, moved away because of life circumstances (family, career), and moved back after several years to one of the great communities under the big sky. Read more about her story in today's Great People, Great Falls.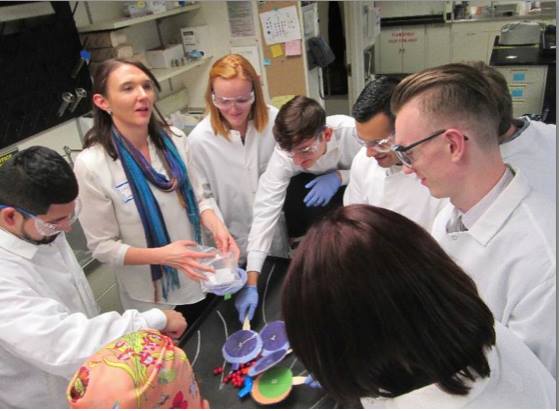 How long have you lived in Great Falls, and are you a native or did you relocate to the region? Why did you relocate, if so? 
I was born in Great Falls but moved around a bit in middle school and high school because my dad spent 20 years in the US Air Force. I did one year of high school at CMR during that time but graduated from Whitefish High School in Whitefish, Montana when my dad took a job with Montana Highway Patrol. I stayed in Montana for college and got my Bachelor's in Cell Biology and Neuroscience from Montana State University (Go, Bobcats!).
I met my husband, Corey, at MSU and we relocated to the Seattle area for work. We spent about 9 years there and decided to move back to Great Falls in 2018 when an engineering position became available for Corey. We wanted to raise our kids closer to family, as most of my family remains in Montana (some still in Great Falls) and we can drive < 4 hours to see any of them.
What is the best part of working/ living in Great Falls?
We have loved the connections we have made in Great Falls because it has a small-town feel, so you get to know people much easier compared to the city life. Our best friends live 2 minutes from us, one neighbor is a decorator and is helping us refurnish, another neighbor owns a garage door repair business and fixed our garage door, my favorite place to shop downtown is owned by a friend I met volunteering, and we see people we know at the farmer's market every Saturday and the soccer fields every Sunday. We missed out on those things when we lived in a more urban area – yet, that does not mean that Great Falls does not have a lot to offer. I am blown away by how downtown has changed since I was a kid, and there is no lack of great restaurants, bars, concerts, and other entertainment. Lastly, it may seem like a small thing but the lack of traffic/ease of getting around makes it easier to get out and do things.
What do you do for work?
Following graduation, I worked for 3 years at the HIV Vaccine Trials Network in Seattle, Washington as a research technician. My job was to assess the early immune responses to candidate HIV vaccines, and I coordinated experiments at multiple sites throughout the United States. This solidified a passion for scientific research and sparked an interest in immunology, so I then went on to get my PhD in Molecular and Cellular Biology from the University of Washington. I just started a position as an Assistant Professor at the McLaughlin Research Institute (MRI) in Great Falls and am starting my own research lab. The MRI is renowned for its research in genetics and neurodegeneration, and I will be applying my background in immunology and microbiology to investigate inflammatory mechanisms in neurodegenerative diseases and chronic viral infections.
I also have always had a passion for scientific outreach and increasing access to scientific research and career exploration for rural Montana students. We have applied for funding to develop a public outreach program at MRI in collaboration with the Great Falls Public Library, and if it gets funded (fingers crossed!), I will be the Educational Director for that program. It's an exciting time for science and healthcare in Great Falls, as we are also welcoming a medical school, which will bring more opportunities for research and science education to our area!
What is the best kept secret about living in Great Falls? 
Great Falls is full of "doers"- people that roll up their sleeves, go out in the community, and work to make it a thriving place for all. For example, I have been involved with the Junior League of Great Falls for 3 years, which is a wonderful organization of women who are looking to gain leadership skills while improving the lives of women and children in the community. Through Junior League, I have had the opportunity to work on projects that directly impact Great Falls families and see how willing the community is to give back. For example, we recently built raised planter boxes for Toby's House Crisis nursery, and the Good Wood Guys donated all the supplies and spent an entire Saturday teaching us how to make the boxes. Time and time again we ask and the community delivers. Personally, I also have many friends on various nonprofit boards, and I see how much time and effort they put into our town and its people. It's an infectious attitude, and makes me certain that Great Falls, which already offers so much, will only continue to get better from here.
Read more stories of people doing cool things in Great Falls on our blog!
The Great People, Great Falls series features Great Falls community members who are doing cool things under the Big Sky.